Jerk Lentil & Carrot Stew 
#apartment5c : Jerk Lentil & Carrot Stew
serves 6-8
Jamaican jerk seasoning is loaded with bold flavors like cumin, allspice, thyme and scotch bonnet pepper and undertoned with a sweetness from cinnamon and nutmeg. The flavor and boldness are finessed in the roots of the island. I decided to infuse that "island essense" into a lentil and carrot stew. Ital vibes!
Enjoy and follow @apartment5c
½ : cup of lentils
4 : carrots
2 : sweet onions
3 : cloves of garlic
1 : scallion
1 : scotch bonnet pepper
1 : cup veggie stock (salt-free)
1 : cup coconut milk
2 : cups water
*grain of your choice (quinoa, farro, couscous, rice, injera)
grapeseed oil
Jamaican Jerk seasoning
fresh thyme
*there are alot of homemade seasoning recipes online too!
*optional additions: bay leaves, allspice, sea salt, black pepper, scotch bonnet pepper, granulated garlic, smoked paprika, cumin, nutmeg, cinnamon, parsley, thyme
#apartment5c: I always get started with music. Sometimes caught in indecision or randomness, i hit shuffle and let fate decide. Other times, I let a mood, the weather, or nostalgia do the choosing. Music and food always make a beautiful pairing.
#SpotifyPlaylist: black classical music

Slice the onions, chop the carrots, dice the garlic.
Heat two tablespoon of grapeseed oil over medium heat and saute the sliced onions.
Add the garlic, carrots, thyme, lentils and one heaping tablespoon of jerk seasoning.
*premade jerk seasonings have specific measurements of each ingredient. You may or may not want to add contributing flavors to this base. Slowly add ½ teaspoon increments of different seasonings for different flavor profiles: more heat, more sweet, more herbiness. Follow the flavors that intrigue you.
Stir to combine and increase heat to medium high.
Add 2 cups of water and cover.
Once it comes to a boil, turn heat back down to medium and let it cook covers for 40 minutes.
Add veggie stock and reseason if necessary.
Let this cook for another 15-25 minutes or until the lentils are softened.
Add whole scotch bonnet pepper for flavor (do not cut or pop, it will provide a mildly heated flavor, but if you pop it, it will be extremely hot)
Stew should be slightly thickened, add coconut milk and stir to combine.
Let this come to a boil and turn heat off.
Serve over grain of your choice and top with diced scallion! Enjoy!
If you try this recipe, post a pic and tag @apartment5c :)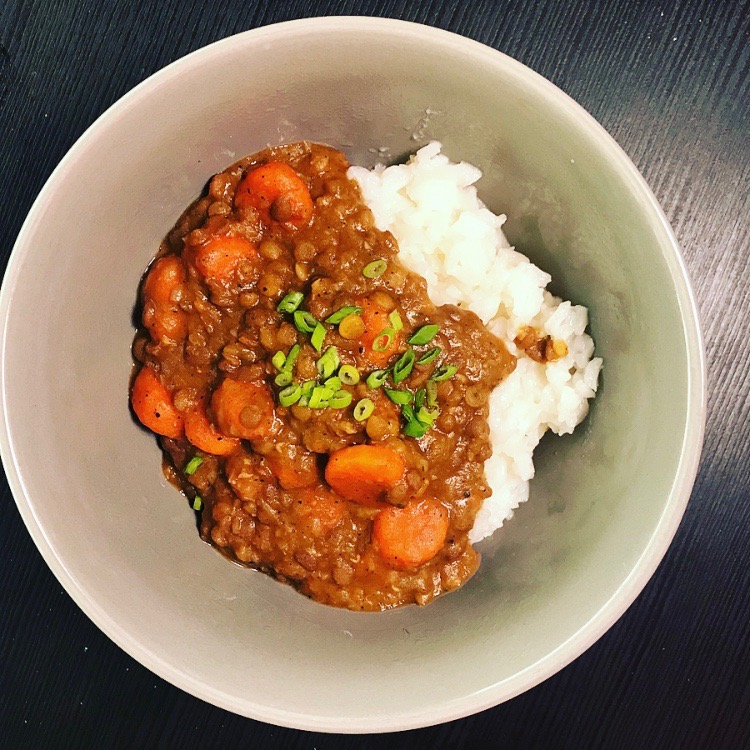 Learn more about the history of Jamaican Jerk here